• Valley Forge Elms For Sale •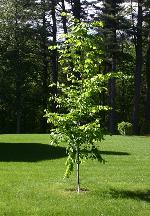 Thank you for your interest in the Valley Forge elm saplings which I raise in quantity each year for sale and seasonal delivery. Your purchases help me (Bruce Carley of Acton, Massachusetts) to continue working on this grassroots project, in addition to helping to restore a valuable species to the landscape. Municipalities, organizations, and private citizens are all welcome to take advantage of this opportunity.
The saplings which I am offering are unbranched or sparsely branched whips of minimal caliper, and their prices are determined by height. Available heights vary widely in each year's crop, ranging generally from 2 to 8 feet. When trees of a particular size are available, they can be reserved and pre-paid by check for deliveries to be made during the approaching fall or early spring season. (I may be able to accept credit cards at some point in the future, but not at present.) These trees are guaranteed to be healthy and true to variety. They are easy to work with, and they are priced by height as shown in the form below.
Because of scheduling issues, it is necessary for me to ship most trees and to limit arranged pickups to situations in which someone lives fairly close to Acton, Massachusetts or is purchasing trees taller than 6 feet, or a large number of trees. Shipping and handling rates are determined on a per package basis, depending on the size of the package to be shipped; however, since these trees are shipped in a more or less bare-root state (with their root systems bagged in moist peat moss with as much soil left intact as reasonably possible), one package can accommodate multiple trees. Box sizes and S+H fees are as follows:

The smallest box is used to ship small numbers of trees of the 24-inch, 2-3 foot and/or 36-inch heights. It can accommodate up to four trees of these sizes.
S+H fee: $15.00 per box.

The medium-size box is used to ship trees of the 3-4 foot height and can accommodate up to six trees of this size. Because of its width, this box also can be used to ship up to twelve trees of smaller sizes.
S+H fee: $20.00 per box.

The largest box (a six-foot, triangular package) is used to ship trees of the 48-inch, 4-5 foot, 60-inch, and/or 5-6 foot heights. One box can accommodate up to five trees of these sizes.
S+H fee: $37.50 per single box, or
$45.00 for two boxes of this size taped together.
Although the Valley Forge elm has been widely test-planted only within USDA hardiness zones 5 through 7, it is being grown by at least one nursery in zone 4 without any problems and is probably suitable for other zones as well. Those outside of the recommended range (as depicted on the USDA hardiness zone map) are welcome to experiment with this variety, and I will be interested in learning of any results worth noting. However, please note that various quarantine laws do not allow me to ship across the U.S. border, nor to the Pacific states, Nevada, or Arizona. Suppliers further west may be able to ship to these areas.
To request Valley Forge elm saplings, please feel free to use the form below, or to email me at [email protected], as you prefer. I will review your request as soon as possible and will respond promptly. (I will not share your email address with anyone or add it to any mailing list.) Please understand that supplies may be limited and may sell out without notice, but please feel free to request items which currently are unavailable if you would like me to keep your name on file for future opportunities.
Elm Sapling Request Form
Update, 6 September 2016: Thanks again to all who had inquired about Valley Forge elm sapling availability from my nursery for the fall 2016 season. As is often the case, these trees are in short supply (my nursery being as small as it is with demand very high), and I apologize for any inconvenience, but I am currently in the process of contacting individuals who had asked me to keep their names on file for possible purchases this season. I expect to have these trees available in larger quantities in seasons to come, possibly including saplings of the Princeton variety, so please keep checking back at this page, and hopefully I will be able to meet your needs. Regardless, other suppliers listed on the page below ('Availability' section) may have these trees to offer in larger numbers.
Main article: Saving the American Elm